All the tools you need to run your real estate investing business. All in one place.
Convert more of your leads into deals and build a predictable selling machine with the only all-in-one tool kit built for investors like you.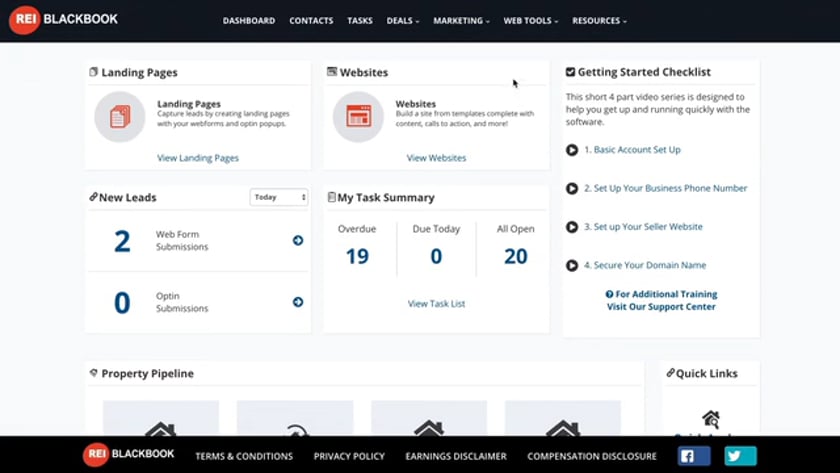 Trusted By Thousands of Investors Across The Country
4,193 +
Investor Powered Websites
4.1 Million +
Contacts Under Management
1.2 Million +
Tools Built for Investors Like You
Easily turn your site visitors into prospects with our proven pre-built website templates. Set up is easy, and only takes a few minutes. Because REI BlackBook is an all in one platform, every lead captured will be sent directly to your CRM, and followed up with on autopilot, helping you consistently close more deals.
Never run your business from spreadsheets and note pads again. Use our powerful CRM to identify new prospects, manage existing relationships, and grow your business from the inside out. Follow up is more important today than ever. Stay in contact with your leads, and pick up the conversation where you left off. Track your conversations with contacts using notes, email read receipts, and the agenda assistant to make sure you never leave a contact behind.
Call Tracking & Analytics
Track your campaigns and grow your business with Profit Dial. Use unique phone numbers for your campaigns to track every call and text message, so you know exactly where your leads are coming from. This will allow you to reallocate your marketing budget so you can scale what's working. Intelligently route calls based on call history, tags, lead source, and more.
Turn your dead leads into deals! Trigger personalized follow-up campaigns when prospects complete a form on your website, text a keyword, or click a link in an email. Create personalized follow-up campaigns with automated text messages, ringless voicemails, emails, and more. No lead will be left behind with REI BlackBook Workflows.
Do you feel like you can never get ahead of your to-do list? Create and implement the perfect follow up strategy to ensure no lead is ever left behind. Create notifications, and seamlessly assign tasks to team members, so you can focus on what you do best. Manage your entire team with complete transparency, allowing you to focus on implementing and managing your systems. 
Easily analyze your properties in one place so you can be sure you are only buying the deals that will make you the most money. After all, you don't make your money when you sell a house, you make your money when you buy one. To ensure you are buying your houses at the right price, use our suite of property analysis tools so you can make the most informed investment decisions.
Property Marketing Engine
Use our suite of property marketing tools to sell your deals with the push of a button. Simply add your photos and property description and hit publish to market your property on your website and top 3rd party sites. Alert your buyers list with text message and email blasts to sell your properties fast, and for top dollar.
Use the Property Finder Portal to recruit, educate, and motivate property finders to submit deals month in and month out. Keep your Property Finders in the loop and accept or reject properties on the fly, which means no more phone calls asking if their deal has closed.
Facebook Lead Ads Integration
Seamlessly capture leads from Facebook Lead Ads and send them directly to your CRM inside of REI BlackBook. Automatically trigger workflows when a new lead is captured so you can follow up with every single Facebook lead via text message, ringless voicemail, and email greatly increasing your lead to appointment conversion rate.
Want to See REI BlackBook In Action?
Click below to learn how REI BlackBook will help you build a predictable business that produces new leads and deals every single month...even if you're just getting started and have a limited marketing budget.
REI BlackBook is a game changer! We've used it to generate 25 deals in just 6 months.
I love how mobile-friendly REI BlackBook is! I love automation! I love getting texts from sellers out of nowhere (REI BlackBook automation is always working for me). I've completely changed the way I use my phone within the last 2 years after getting REI BlackBook.
Marcy Martinez
Freedom Heights Investments
Doing deals, while on vacation, in the wilderness of Canada was easier than ever because of this stellar platform. Not only was I able to lock up several new properties, I got them marketed out in no time at all!